Welcome
Welcome to the Grand Court of Washington, Order of the Amaranth website.

  HL Ginny Docker & SK Gerald Seldon Sr.
Coldwell Banker Bain partners with the Grand Court of Washington to fight diabetes!
For details on how the sale or the purchase of a home can benefit diabetes research "Click Here".
Get your New Amaranth Name Badge!!!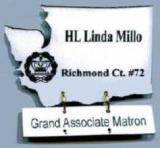 If you are in need of a new Amaranth Name Badge, here is your opportunity. Click Here to download your order form.
Where's the Traveling Gavel?
The traveling gavel was last reported at Halcyon Court No. 30 
Longview Masonic Lodge
823 7th Ave 
Longview, WA 98632-2108
Meets 1st Mon at 7:30 pm, 2nd Mon. in Sept.
Dark Jan & Feb
Need Directions?
What is going on outside of Washington?
---

March 1 - March 3, 2018
Comfort Inn & Suites
8255 166th Street
Surrey, BC V4N 5R8

---

March 9 - 11, 2017
Ramada Inn Portland Airport
6221 NE 82nd Ave
Portland, OR 97220
Phone: 1-800-291-9434

---

September 28-30-2017
Riverside Hotel
2900 Chinden Blvd
Boise, ID 83714

For more information on other jurisdictions,
visit the Supreme Council Website.