Welcome
Welcome to the Grand Court of Washington, Order of the Amaranth website.

  HL Bonita Hutchins & SK Allan Moulden

Coldwell Banker Bain partners with the Grand Court of Washington to fight diabetes!
For details on how the sale or the purchase of a home can benefit diabetes research "Click Here".
Get your New Amaranth Name Badge!!!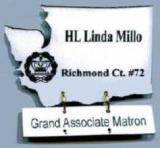 If you are in need of a new Amaranth Name Badge, here is your opportunity. Click Here to download your order form.
Where's the Traveling Gavel?
The traveling gavel was last reported at Halcyon Court No. 30 
Longview Masonic Lodge
823 7th Ave 
Longview, WA 98632-2108
Meets 1st Mon at 7:30 pm, 2nd Mon. in Sept.
Dark Jan & Feb
Need Directions?
What's up with Friends in the Northwest?
---

October 4 - 6, 2018
Riverside Hotel
2900 Chinden Blvd.
Boise, ID 83714
1-800-222-8733

---

February 28 - March 2, 2019
Quality Inn Abbottsford
36035 N. Parallel Rd.
Abbottsford, BC V3G 2C6

---

March 14 - 16, 2019
Best Western Premier
Boulder Falls Inn
505 Mullins Dr.
Labanon, OR 97355

---

March 14 - March 16, 2019
Red Lion
607 E Yakima Ave.
Yakima, WA 98901

-2548


509-248-5900

For more information on other jurisdictions,
visit the Supreme Council Website.