Welcome
Welcome to the Grand Court of Washington, Order of the Amaranth website.

  HL Cathy Smith & SK Phil Peters

Coldwell Banker Bain partners with the Grand Court of Washington to fight diabetes!
For details on how the sale or the purchase of a home can benefit diabetes research "Click Here".
Get your New Amaranth Name Badge!!!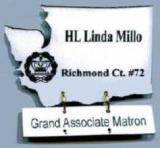 If you are in need of a new Amaranth Name Badge, here is your opportunity. Click Here to download your order form.
Where's the Traveling Gavel?
The traveling gavel was last reported at Halcyon Court No. 30 
Longview Masonic Lodge
823 7th Ave 
Longview, WA 98632-2108
Meets 1st Mon at 7:30 pm, 2nd Mon. in Sept.
Dark Jan & Feb
Need Directions?
What is going on outside of Washington?
---

March 3 - March 5, 2016
Poco Inn & Suites
1545 Lougheed Highway
Pt Coquitlom, BC

---

March 10 - 12, 2016
Salem Scottish Rite Center
4090 Commercial St SE
Salem, OR 97302

---

September 22-24-2016
Riverside Hotel
2900 Chinden Blvd
Boise, ID 83714

For more information on other jurisdictions,
visit the Supreme Council Website.